WAB794
<![if !vml]>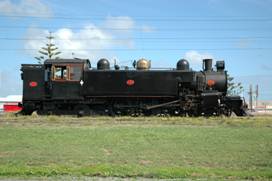 <![endif]>
Built:                              1927 by New Zealand Government Railway Workshops at Hillside, Dunedin, NZ.
Configuration:              4-6-4 T (Tank)
Gauge:                           3ft 6in                     (1067mm)
Cylinders:                     Two
Bore and Stroke:          17 x 26 inches         (431.8 x 660.4mm)
Axle loading:                 14.3 tons                 (14.53 tonnes)
Driving Wheels:           4ft 6in (54 inches)   (1371.6mm)
Heating Surface:          1050 sq feet             (97.55 metres)
Superheater:                 183 sq feet               (17 metres)
Steam Pressure             200 psi max             (1380 kPa)
Grate Area:                   33 sq feet                 (3.07 sq metres)
Coal Load:                     3 tons                      (3.05 tonnes)
Water Load:                  1700 gallons            (7728.3 litres)
Tractive Effort:              22,250 lbs                (10,092 kilograms)
Valve Gear Type:          Walschaert
Weight:                          74 tons                    (75.19 tonnes)
Adhesive Weight:         41.85 tons               (42.52 tonnes)
Length:                          44ft 5¾in                (13.56 metres)
Operating Speed:         43 ½ mph                (70km/h)
Approx Power:               1000bhp max (under ideal operating conditions)
This is one of only two survivors of this class, and the only one in mainline running condition. Thirty members of this class were built. These locomotives were designed mainly for suburban workings but because of their high tractive effort they were also used on steeper sections of line hauling passenger or freight trains. In particular between Dunedin and Oamaru and between Taihape and Taumarunui. This class of locomotive is capable of higher speeds than that mentioned in the table, however this is restricted by current regulations, to 70km/h in a forward direction and 30km/h whilst running bunker first. This locomotive was sold to the Ohai Railway Board for hauling coal trains in 1955. In 1967, it was "released" to the NZ Railway and Locomotive Society along with X442 for display at Ferrymead Historic Park in Christchurch. Due to storage and delays along the way, it did not reach Ferrymead until 1978. In 1997, it was leased to the F&DSRS on a 25-year 'heritage' lease for restoration to mainline operation.
©Feilding and District Steam Rail Society 2005 (Mike Higgie)